BA 1008
The ultra-compact bar miller born in watchmaking territory
The BA 1008 is fed with bars via the machine, using a divider system which allows workpieces up to a diameter of 16 mm to be loaded. Positioned machining operations and interpolation between the tool systems and the workpiece are easily possible. With 4 frontal spindles, 3 lateral spindles and 2 secondary operation spindles, the BA 1008 is well equipped to tackle any challenges.
Benefits:
Ergonomics based on the famous SwissNano from Tornos
High productivity
Reduced dimensions
Excellent value for money
Types of workpiece:
Dial components
Appliques
Settings
Windows
Movement and exterior components.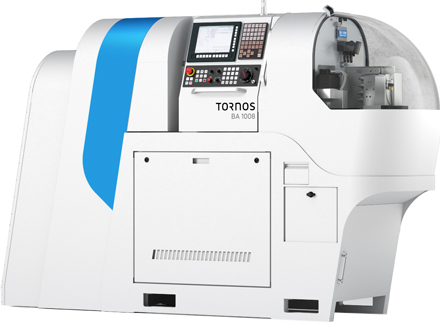 Technical specifications

 

BA 1008

Axes

axes

6 linear + 1 C axis +1 B axis (option)

Max bar diameter

mm

16 

Frontal spindles

rpm

4 spindles 12'000, 28'000 or 80'000

(ER11-UP / ER8-UP collets)

Lateral spindles

rpm

3 spindles 12'000, 28'000 or 80'000

(ER11-UP / ER8-UP collets)

Counter-operations

rpm

2 spindles 12'000, 28'000 or 80'000

(ER11-UP / ER8-UP  collets)

Sawing

 

1 tool (Ø 80mm)

Dimensions L x W x H

mm

2400 x 650 x 1600