Time to turn
Celebrate the 20th anniversary of our flagship DECO machines while getting exclusive savings and access to the latest DECO technology. We're making it easy for you to trade up to a new EvoDECO by offering you 40'000 EUR (32'000 GBP) on your existing DECO machine. And —once your new EvoDECO is configured— you'll benefit from a special price.*
Contact us today and take the first step toward reaching highest productivity.
* Trade up conditions: the machine is able to produce and is not damaged. Offer available until the 31th of December 2017.
Turn to
the latest technology
Turn to full options
configurations
Achieve a truly smooth transition from DECO to EvoDECO. With a complete lineup of options on the machine base, each EvoDECO includes all the motorizations for live tools, latest CNC technology FANUC 31iB5, C-axis, and central lubrication. Because the EvoDECO is evolved from the renowned DECO range, its technologies are already familiar to  you—and the EvoDECO accommodates your existing tool holders and programming logic.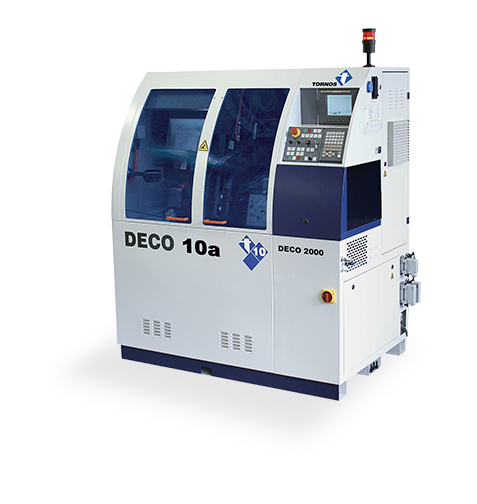 Turn to
high productivity
Easily make the leap to higher productivity with the EvoDECO's fast acceleration and deceleration. Go from zero to maximum machine speed in less than a second, thanks to its unique motor spindle. The EvoDECO range retains the DECO's highly productive, modular and dynamic kinematics, so you can engage four tools in the cut. Tackle hard materials with ease, due to this solution's improved stiffness and thermal behavior. Plus, balancing your programming is an easy matter, because each EvoDECO features the same power in both main and counter operations.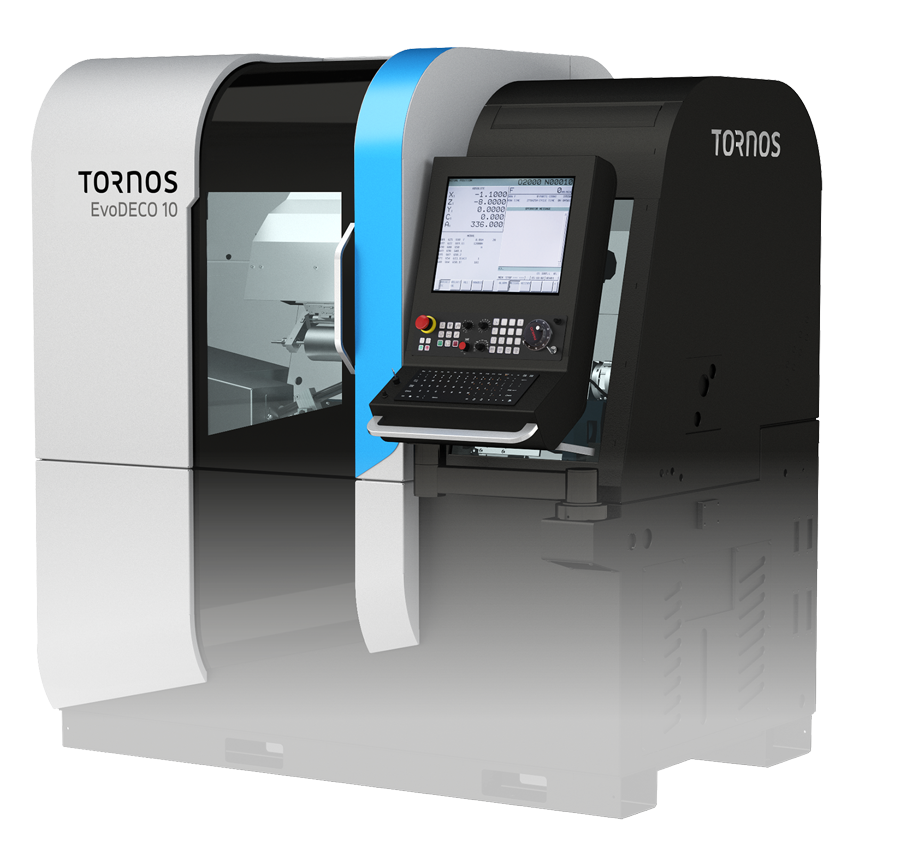 Turn to
greater profitability
Slash your maintenance costs due to better ergonomics, central lubrication and an auto cleaning filter. Quickly change your setup, thanks to excellent machining area access and a new touchscreen PC. Profit from extreme flexibility by programming directly on the machine or from an external PC.

Other benefits:
Highest productivity on the market
Most modular machine of the market;
tackle any part in any configuration
Most powerful and dynamic spindle available today
No extra operator training is needed
Increase your machining capability
Latest FANUC® technology
Program with TB DECO or ISO with TISIS
Monitor and supervise your production
Integrated PC touch screen
Experience improved ergonomics with
greater accessibility to the machining area
Use the same tool holders and attachments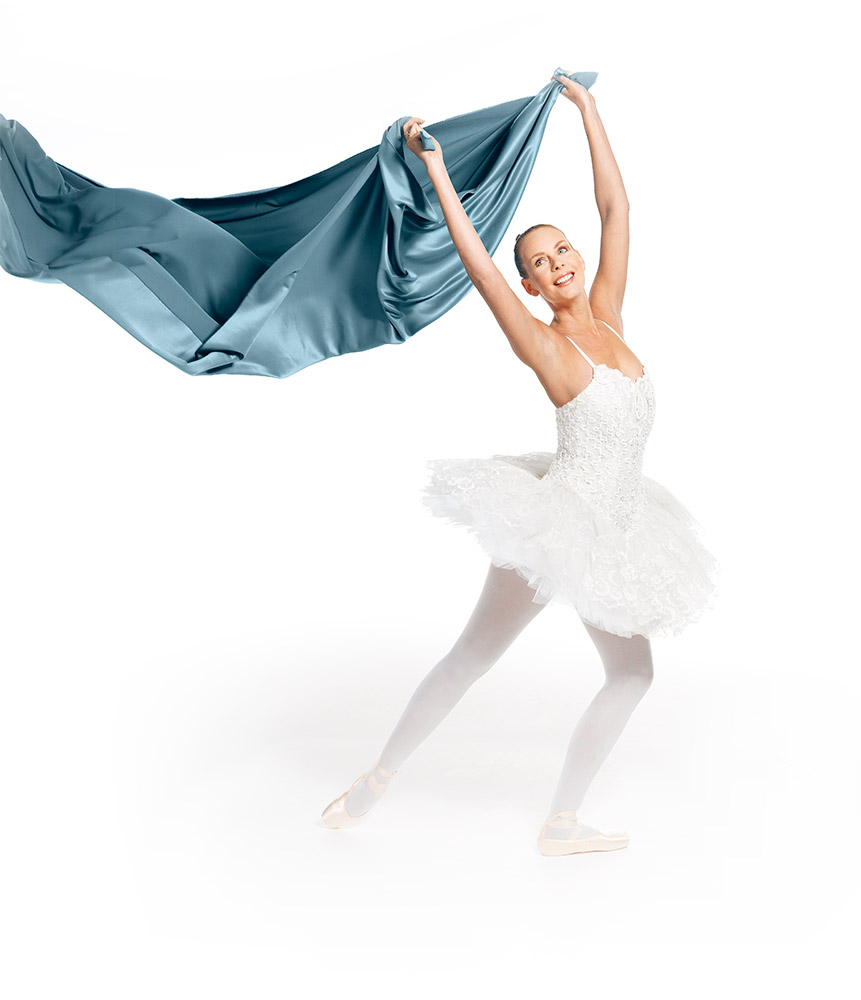 Turn to the future,

turn to Tornos
Advance your production capacity with the new EvoDECO, the market's most powerful and dynamic spindles, whatever diameter you choose. Machine faster and extend the lifetime of your tools, due to the new EvoDECO's bed that is optimized for improved stiffness and thermal behavior. You'll manufacture your series fast and within tolerance, thanks to this solution's thermal behavior and pre-heating system. These game-changing advanges are backed by the EvoDECO's incredible kinematics—a unique concept allowing you to manufacture parts with up to four tools in the cut simultaneously and a modularity that makes it easy to adapt the machine to your parts. No other machine on the market approaches this degree of sophistication. And—with an EvoDECO 16's optional B axis and the EvoDECO 10's new Y4 axis—you get a strong gear hobbing solution.
Get all these benefits—and more—without changing your production philosophy, because you can keep your DECO tool holder and your DECO program on your new EvoDECO.
EvoDECO


The most productive and
powerful machines on the market

Easily take on the most demanding machining operations with the EvoDECO: the pinnacle of the Tornos range and the most powerful and productive solution on the market. Available in four diameters—10 mm, 16 mm, 20 mm and 32 mm—the EvoDECO's unparalleled flexibility allows this solution to efficiently produce the most complex workpieces while ensuring rapid setup changes.
Unique productivity thanks to four independent tool systems
Motor power
Flexibility enabling the production of the most complex workpieces thanks to the modular tool system
B axis (EvoDECO 16)
| EvoDECO |   | 10/10 | 10/8 | 16/10 | 20 | 32 |
| --- | --- | --- | --- | --- | --- | --- |
| Maximum diameter | mm | 10 | 10 | 16 | 20 | 32 |
| Number of linear axes |   | 10 | 8 | 10 | 10 | 10 |
| Number of C axes |   | 2 | 2 | 2 | 2 | 2 |
| B axis |   | - | - | Option | - | - |
| Number of independent tool systems |   | 4 | 3 | 4 | 4 | 4 |
| Total number of tool positions |   | 18 | 15 | 20 | 27 | 27 |
| Position for rotating tools |   | 13 | 10 | 15 | 21 | 21 |

Contact us


for a special offer

We have a special offer waiting for you when you trade in your legacy DECO device to receive a discount on the latest generation EvoDECO machines! Don't wait up and let us provide you the details on this amazing offer.

+41 32 494 44 44
contact [at] tornos.com