Actualités
Turning Together: Tornos célèbre son 60e anniversaire aux Etats-Unis et inaugure son nouveau Customer Center
Le nouveau Customer Center Chicago de Tornos a ouvert officiellement ses portes mardi à Des Plaines. Une cérémonie d'ouverture marquée par la présence de nombreuses personnalités du monde de la machine-outil. Ce nouveau centre permettra à Tornos d'encore mieux servir ses clients. C'est un maillon essentiel de la stratégie du groupe aux Etats-Unis, qui célèbre justement ses 60 ans d'existence en terre américaine.
Placée sous le signe du désormais leitmotiv « Turning Together », la cérémonie d'ouverture du Customer Center Chicago s'est déroulée mardi sous les meilleurs auspices. Tornos y a ainsi affirmé sa présence de longue date, confirmant son intérêt et sa volonté d'offrir le meilleur à sa clientèle américaine. En effet, cet événement commémorait également le 60e anniversaire de l'établissement de l'entreprise suisse aux Etats-Unis en 1959.
Tornos a ainsi organisé plusieurs événements cette semaine dans son nouveau Customer Center Chicago. Mardi, une sélection d'invités triés sur le volet ont pu assister à l'ouverture officielle. Paul Casella, employé chez Tornos depuis 50 ans,y a également reçu les honneurs de la part du nouveau président de Tornos US, Daniel Maerklin, ainsi que de Michael Hauser, CEO de l'entreprise.
Lors des journées portes ouvertes, clients et intéressés étaient invités à visiter le nouveau customer center et à célébrer les 60 ans du succès rencontré aux États-Unis. Au cours des deux journées portes ouvertes, des séminaires de pointe sur l'industrie étaient organisés, notamment dans les domaines médical, automobile et électronique. En marge du Grand Opening et de la célébration de ce 60e anniversaire, Tornos US présentait également en avant-première américaine sa nouvelle SwissNano 7 mm.
Vaste et spacieux, le nouveau customer center mesure près de 1'200 m2. Il comprend un grand showroom, à la pointe de la technologie, pour y présenter chaque produit de la gamme Tornos, ainsi qu'un grand entrepôt pour stocker les stocks de pièces de rechange et un espace bureau plus conséquent.
Toujours dans le cadre de sa stratégie, Tornos renforce ainsi sa flexibilité, en innovant et en renforçant son excellence opérationnelle. L'approche de Tornos consiste à proposer des solutions uniques pour des segments de marché ciblés. Elle a déjà fait ses preuves aux Etats-Unis, et ce nouveau centre permettra encore d'élargir l'offre proposée jusqu'ici. Car ce nouveau centre est un signe clair de l'engagement de Tornos envers ce marché et ses clients. sont intimement liés, ensemble, « Turning Together ».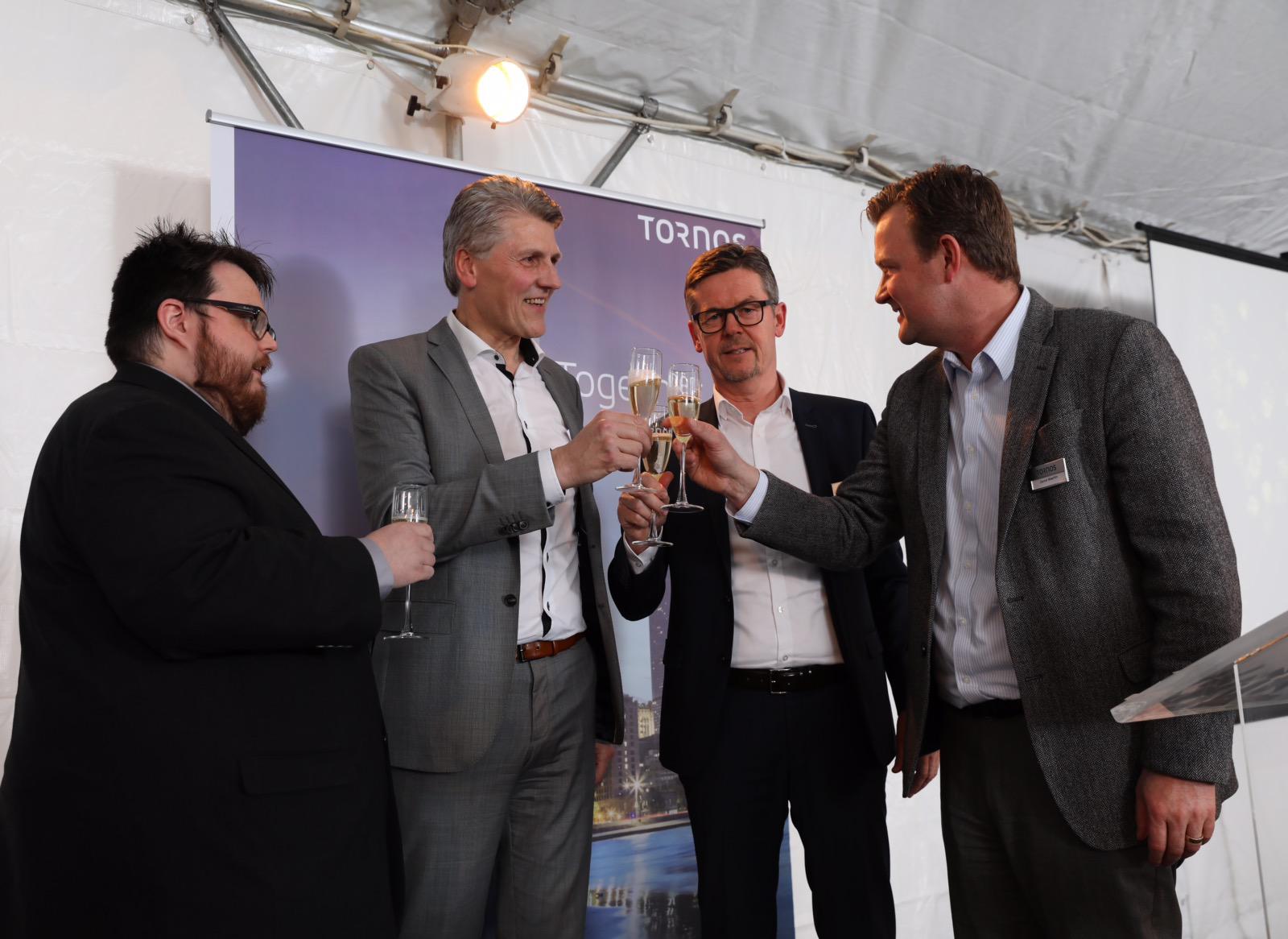 Justin Cochran, District Director, 55th District, Illinois House of Representatives, Michael Hauser, CEO de Tornos, Bruno Allemand, Head of Sales and Marketing, Tornos, et Daniel Maerklin, Président de Tornos US.