SwissNano
La spécialiste de la micro et nano précision! 
Say hello to the new SwissNano 10 : the perfect 10
Taillée pour la « micro-production »
Bénéficiez d'une productivité accrue de 40 % !
Diamètre de barre maximum 10 mm
Longueur de pièce jusqu'à 100 mm
Améliorez et sécurisez votre processus d'usinage avec le logiciel Active Chip Breaker Plus de Tornos.
Augmentez votre capabilité, la nouvelle SwissNano 4 bénéficie d'un bloc de contre-opérations modulaire motorisé qui peut recevoir jusqu'à 3 outils. Jusqu'à 2 outils tournants en contre-opération !
Désormais entièrement compatible pour la haute pression, SwissNano vous permet de relever les défis les plus difficiles malgré sa petite taille !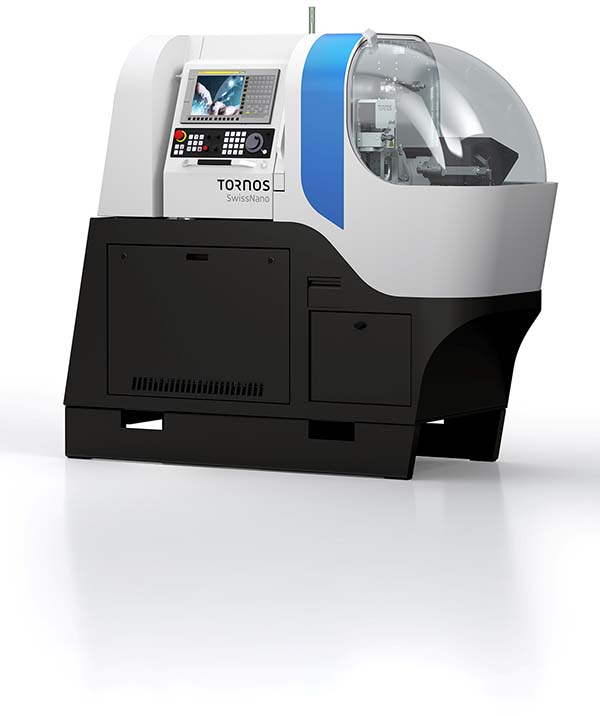 Avantages principaux
La plus haute précision du marché
Cinématique unique permettant des opérations de tournage et perçage, de taillage-ébavurage ainsi qu'ébauche-finition
Très bonne accessibilité dans la machine pour des réglages aisés
Précision correspondant aux exigences horlogères
Canon fixe, tournant ou travail sans canon
Nécessite une surface au sol minimale : 1.1 m de l'avant de machine au ravitailleur et largeur 0,65 m

Gearwheel

Watch screw

Sliding pinion

Test pin
SwissNano a été voulue et conçue pour les petites pièces requérant une très haute précision.  Sa cinématique lui permet par exemple de réaliser les 2/3 des pièces de mouvements horlogers, des pièces simples aux pièces complexes, incluant par exemple le taillage, avec d'excellents états de surface. Sa compétence ne s'arrête pas à l'horlogerie mais inclut tout type de pièces requérant une qualité et une précision extrême. La structure de la cinématique a été pensée pour l'équilibre et la gestion thermique exemplaire permet une mise en température très rapide.
SwissNano 7 : Ultra compact
| SwissNano |   | 4 | 7 | 10 |
| --- | --- | --- | --- | --- |
| Diamètre maximum | mm | 4 | 7 | 10 |
| Nombre d'axes linéaires |   | 6 | 6 | 6 |
| Nombre d'axes C |   | 2 | 2 | 2 |
| Nombre de systèmes d'outils indépendants |   | 2 | 2 | 2 |
| Nombre total de positions d'outils |   | 12 | 20 | 20 |
| Positions pour outils tournants |   | 4 | 5 | 5 |