SwissNano
The micro and nano precision specialist!
Say hello to the new SwissNano 10 : the perfect 10
Geared for micro production
Profit from up to 40 % more productivity.
10 mm maximum bar diameter.
 Workpiece length up to 100 mm.
Improve and secure autonomy with Tornos' Active Chip Breaker Plus software.
Increase your parts portfolio with 4 tools and up to 2 live tools in back operation!
Benefit from a high-pressure-ready machine, and defeat the most difficult challenges with the smallest machine on the market.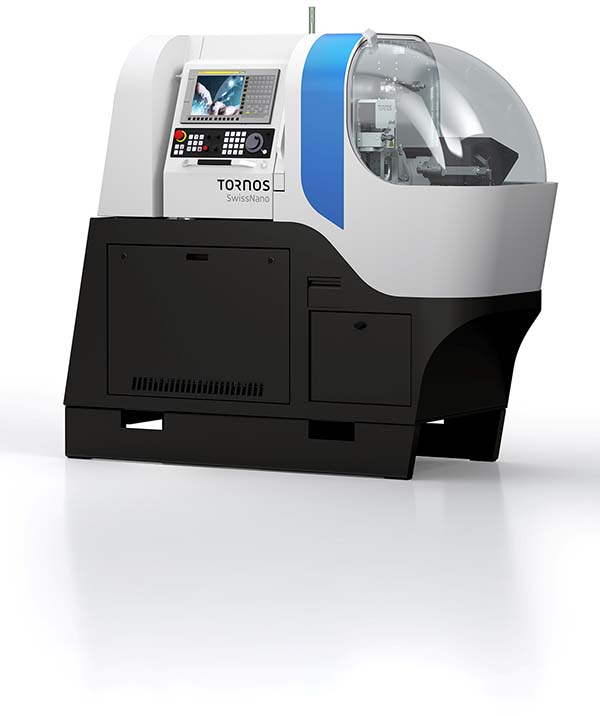 Main advantages:
The highest precision on the market
Unique kinematics enabling turning, drilling, cutting/deburring and roughing/finishing operations
Excellent accessibility for easy setting operations
Horological standard precision
Fixed/rotating guide bush or operation without guide bush
Minimal footprint: 1.1 m in front of the machine with bar feeder and width 0.65 m

Gearwheel

Watch screw

Sliding pinion

Test pin
The SwissNano was designed to meet the demand for small workpieces requiring very high precision. For example, its kinematics enable the machine to produce two thirds of watch movement components, from the simple to the most complex,including cutting ,with excellent finishes. Its capability extends beyond horological applications to include any type of workpiece requiring extreme quality and precision. The kinematic structure was designed for exemplary balance and thermal management enables the operating temperature to be achieved very rapidly.
SwissNano : Dental Implant
SwissNano 4 - Sliding head lathe
SwissNano 7 - Sliding head lathe
SwissNano 7 : Ultra compact
Center the counter spindle with ease
| SwissNano |   | 4 | 7 | 10 |
| --- | --- | --- | --- | --- |
| Maximum diameter | mm | 4 | 7 | 10 |
| Number of linear axes |   | 6 | 6 | 6 |
| Number of C axes |   | 2 | 2 | 2 |
| Number of independent tool systems |   | 2 | 2 | 2 |
| Total number of tool positions |   | 12 | 20 | 20 |
| Position for rotating tools |   | 4 | 5 | 5 |